Hotel interior design VILLA ZAUBER
Comments Off

on Hotel interior design VILLA ZAUBER
Interior design of Hotel ZAUBER
Villa ZAUBER is a small-sized urban hotel located in city Poprad under High Tatra. We have designed the interior of this accomodation facility and equipped it in a comprehensive way. This hotel is a true eye-catcher and mesmerizes your attention right from the very first moment you enter. Inside you can find nine cozy rooms for hotel guests, six of them on the first floor and the rest on the ground floor of this building.
Elegant interior with artistic flair
The entry hall is dominated by a remarkable staircase, where we have worked with two natural materials – glass and wood – providing this spacious room with a timeless character. The elegant vibe is enhanced by the choice of wall decorations – large-sized fine art on the front wall surrounded by wall coverings with very simple and clean lines. Essential elements in this context are the suspended wooden ceilings, equipped with both direct and indirect lighting sources. This way we made sure that the atmosphere in this room remains flexible and easy to adapt according to the current purpose and preferences. Right above the central staircase, one cannot oversee the stylish source of lighting – a glass chandelier produced by brand MODOLUCE. With its artistic and modern appearance it perfectly matches the overall design concept of hotel ZAUBER.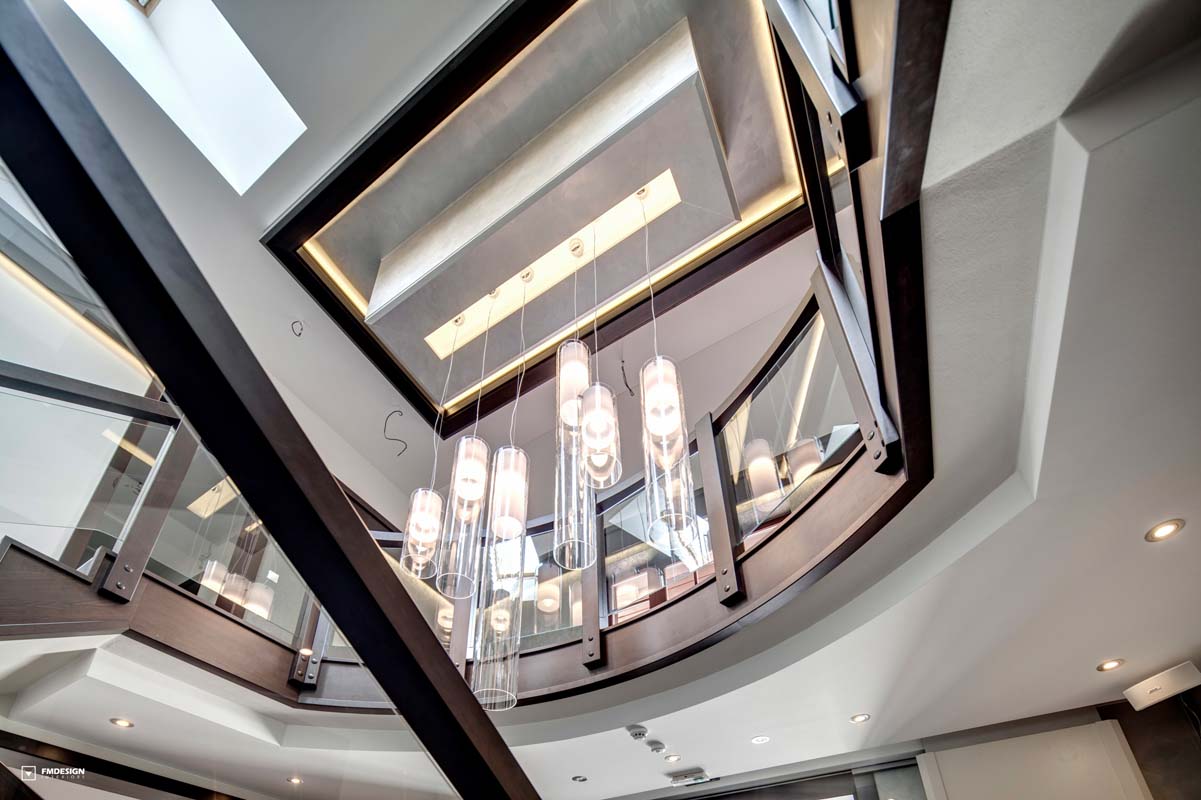 Villa ZAUBER and the selection of main motives and color palette for hotel interior
Both in hotel rooms and social environments we went for neutral colors such as white, beige, bronze, silver and warm tones of wood. These nude shades look very clean and create space for a flawless presentation of fine art strategically placed all over the interior environment.
Jazz café of hotel ZAUBER
A special attention was dedicated also to the gastro parts of this hotel, such as the breakfast room and jazz café located on the ground floor. During the process of designing this interior environment, we have strived for a cozy atmosphere and for a provocation of creative ideas as well. That's why we have placed very authentic paintings of jazz musicians on the walls. For an undisturbed artistic experience we have smartly hidden under wooden coverings technical devices such as heating units and distributor boxes. Another crucial element for the desired atmosphere is the high-end sound system by BOSE, which we have supplied as a part of our comprehensive interior package.
Tailored furniture a special surface finishings
The atypical hotel equipment was produced in-house, in the production plant of the company FMDESIGN. Apart from the hotel room furniture, this part of equipment refers also to the tailored covering on walls, ceilings and hotel counters. When it comes to our material choices, we have worked mostly with various types of laminated panels. However, we have given them a little visual boost by employing unique surface finishings, both in case of smooth and structured areas. A good example of this special finish is the metallic effect we have applied to the reception counter and the area behind. A major part of the wooden elements is the walnut-tree, granting the interior of Villa ZAUBER a warmer and more welcoming look.
Hotel decoration and product sourcing for hospitality business
Matching to this visual appearance, we have of course selected also the window decorations and bedcovers. Further furnishing elements are coming from the brands Cizeta (chairs), Vorwerk (carpets) or Modoluce (lighting). You can order these stylish lamps through our newly opened ecommerce platform FMDESIGN ELEMENTS, where you will find a selection of the finest interior products out there. When it comes to the equipment of hotel bathrooms, we have picked the tiles by MARCA CORONA. Together with all the brands named above, this italian producer belongs to the business partners we cooperate with on a long-term basis.
Share post: